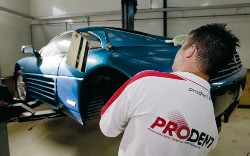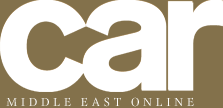 The Prodent Boys gave Cars Middle East's Noel Ebdon a helping hand on his Ferrari 348 TS restoration project… to read the full story click the logo
"The blue 348 has been hanging around on a lift in Max Garage waiting for parts for a while now so I thought it might be prudent to make hay while the sun shines. If I can't drive it around in the lovely weather I might as well get some more jobs ticked off the list of tasks.
Firstly, I tried to track down some new engine mounts, but with the cheapest source coming in at an eye watering $3,200, I have gone back to the drawing board on that one. I've even started talking to a company in the UK which manufacturers bespoke engine mounts for race cars in an attempt to bring the cost back to sensible levels.
Back in the garage the brilliant guys from Prodent popped in to remove three small dents on the bodywork. These magicians of metal quickly set to work massaging out the marks on the body that really stand out when the car is sitting in the sunlight.
The process is amazing to watch as they push out the dent bit by bit from behind. Interestingly, they hardly need to remove much of the car, finding access to the back of the metal from the smallest of holes.
The technicians use a selection of metal bars with a variety of oddly shaped ends to work the metal back into shape. If the metal comes too far forward they work it back to level using some very skillful hammer and dolly action.
Interestingly, the dent appeared to have gone within about five minutes, but the guys continued to work on the car for a good while longer. They could see it wasn't quite perfect, but it looked spot on to me.
Nice to see that even in these rushed times someone likes to take a bit of care and commitment in their work. Each dent takes around half an hour dependant on the severity of the damage, but most marks can be pushed out eventually.
If you've got any of those annoying parking dents on your car I suggest you give them a try, as there's nothing better than perfect bodywork on your pride and joy. Though how I'm going to stop the car from picking up new parking dings is something I'm still to fathom out. Maybe I need to invest in industrial quantities of bubblewrap…
With the dents removed I made a speculative call to the local importer of the famous Tubi exhausts, Italian Style. Tubi is probably the world's most popular exhaust system for Ferraris and helps to release that all-important V8 wail that has been conspicuously missing from my Ferrari.
The company swiftly came back with a firm yes to help out and a full race system is now on its way to me.
So all in all it's not been a bad month. I have three less dents and one shiny new exhaust on the way. Not bad considering the car hasn't turned a wheel in anger for a very long time indeed.
Helping Noel to make his Ferrari look in tip top condition this month has been the boys from Prodent. If you fancy giving your pride and joy a blemish-free finish give them a call on +971 50 659 336" February 2010, written by Noel Ebdon.